Inspiration Trust Literary Olympiad ​
Back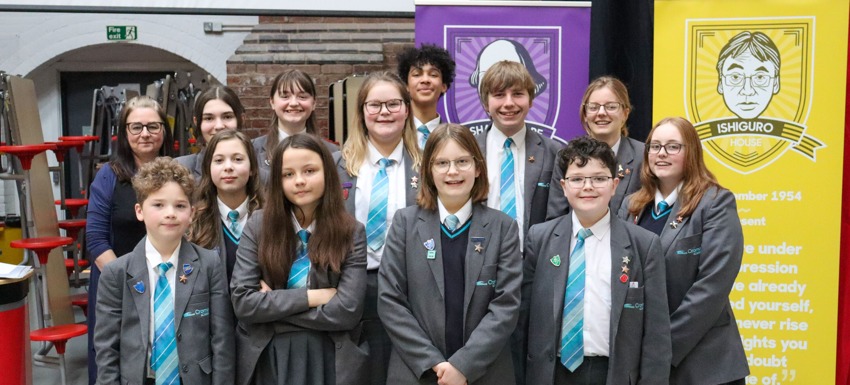 March 31st 2023
Cromer Academy took a team of pupils to compete in four different disciplines in the inaugural Inspiration Trust Literacy Olympiad, held at Jane Austen College on 17th March. The disciplines were Poetry, Public Speaking, Debate and Book Shadowing, organised in the lead up to the event by Trust Librarians and English departments.
The Book Shadowing has been running for a few years now, with Trust Librarians presiding over their own version of the Carnegie Award Shadowing, where pupils read the same books across the trust and vote for their favourite. Awards are also given for personal endeavour by individual pupils. The favourite book was 'Fake' by Ele Fountain. Awards for Most Books Read went to Maisie Cox in Year 7 and Josh Cornish-Barlow in Year 9, with Most Engaged also going to Maisie. Star Pupil was awarded to Millie Page in Year 7. The pupils received a book as a prize.
The Poetry event involved pupils reading a poem from memory. Our Year 7 pupils gave a rousing rendition of the school poem 'Invictus' by William Earnest Henley. Then pupils from across all year groups read their own compositions about 'Cromer'. These were the first prize winners of a school-based competition and, as well as being judged on their performance of the poems, they were judged on the strength of their writing too. We were delighted to see our Year 7 pupil, Daisy Harrod, win first place overall for her poem 'Cromer Town'.
The Speech and Debate events happened simultaneously, with Ruby Cox entering her speech 'We Can Change'. The speeches were very varied, and all were impassioned. Our debate team of Tyrese Hlongwane
In Year 10, Molly Postle in Year 11 and Jack Annison from Year 9 won their section on 'Should books be edited to suit a modern audience', which placed them third overall.
It was a wonderful day for both pupils and staff, and a lovely reward after lots of hard work!