March 31st 2023
Dear families,
Summertime looms closer and I'm sure that we're all looking forward to welcoming more sunshine. I hope you enjoy the updates within our newsletter and remind all families that you are welcome to tour the school in action at any time to witness first-hand, the amazing work that goes on from pupils and staff.
I take this opportunity to inform you of some staffing changes; We say farewell to Mr Bonham who leaves us after 6 and a half years at Cromer to travel the world. Mr Davies replaces him as Teacher of PE and Ms Cornish relinquishes her role as Behaviour manager to take over the role of Assistant Head of Years 10 and 11. We offer a warm welcome to Mrs Gilbert as she undertakes the Behaviour Manager role.
At Cromer, we consider ourselves lucky to work with one another. Staff and pupils alike. We often remind pupils that we are all a team. We genuinely enjoy working with your children and I insert a comment from a supply teacher that captures what we work for as a school community;
'I was doing supply teaching at your academy on Wednesday 1st March, 2023.
I have visited and worked in many schools in Norfolk and by far the students at Cromer Academy have been the kindest, most helpful, polite, hardworking, confident, independent, motivated and enthusiastic students that I have been lucky enough to work with.
Please pass on my congratulations to the students for being so awesome, I wish them all the best with their studies and hope to visit to work with them again soon. '
A phenomenal compliment to your children.
As Year 11 gear up for the final run-up to their summer examinations, we wish them well in their final term of secondary education. The road ahead is never an easy one for Year 11 but we wish them every success and trust in them that they will give their all.
Our musical production of 'Back to the 80s' was a great success and the first truly collaborative performance with staff sharing the stage with our pupils and a live band delivering the accompanying hits that took us all back in time. A joy to watch!
In response to many of you asking for more information on how your child is progressing at school, the My Child at School is now live and details on how to join will follow. The app will provide real-time updates on attendance and behaviour including all rewards as well as serve as a means of communication. You will also be able to access timetables and end-of-term reports. There will be changes and adaptations as we build the profile to best suit our school needs so we ask for your patience as we launch.
I wish you all an enjoyable Easter break with some quality downtime. I look forward to welcoming all pupils back to school on Tuesday 18th April.
Year 7 CSI Day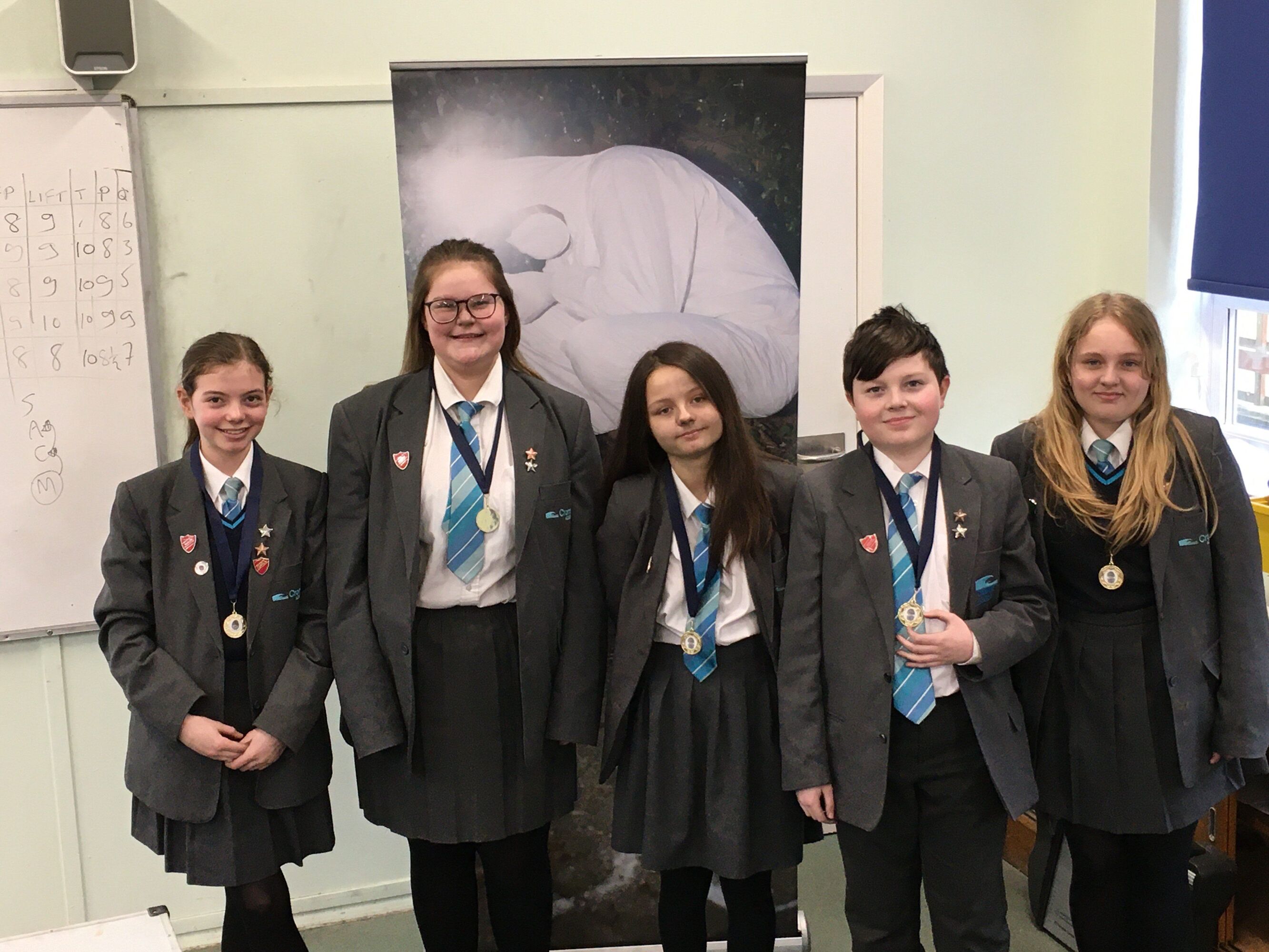 On Monday, March 20th, twenty-five Year 7 pupils conducted a crime scene investigation. Guidance was provided by an ex-Scotland Yard detective and the students were taught how to apply a number of forensic techniques, including fingerprint, dental, hair, and fibre analysis. Using the evidence they uncovered along with case notes and background information the pupils successfully identified both the murderer and the story behind his crime.
Princess Trust Donation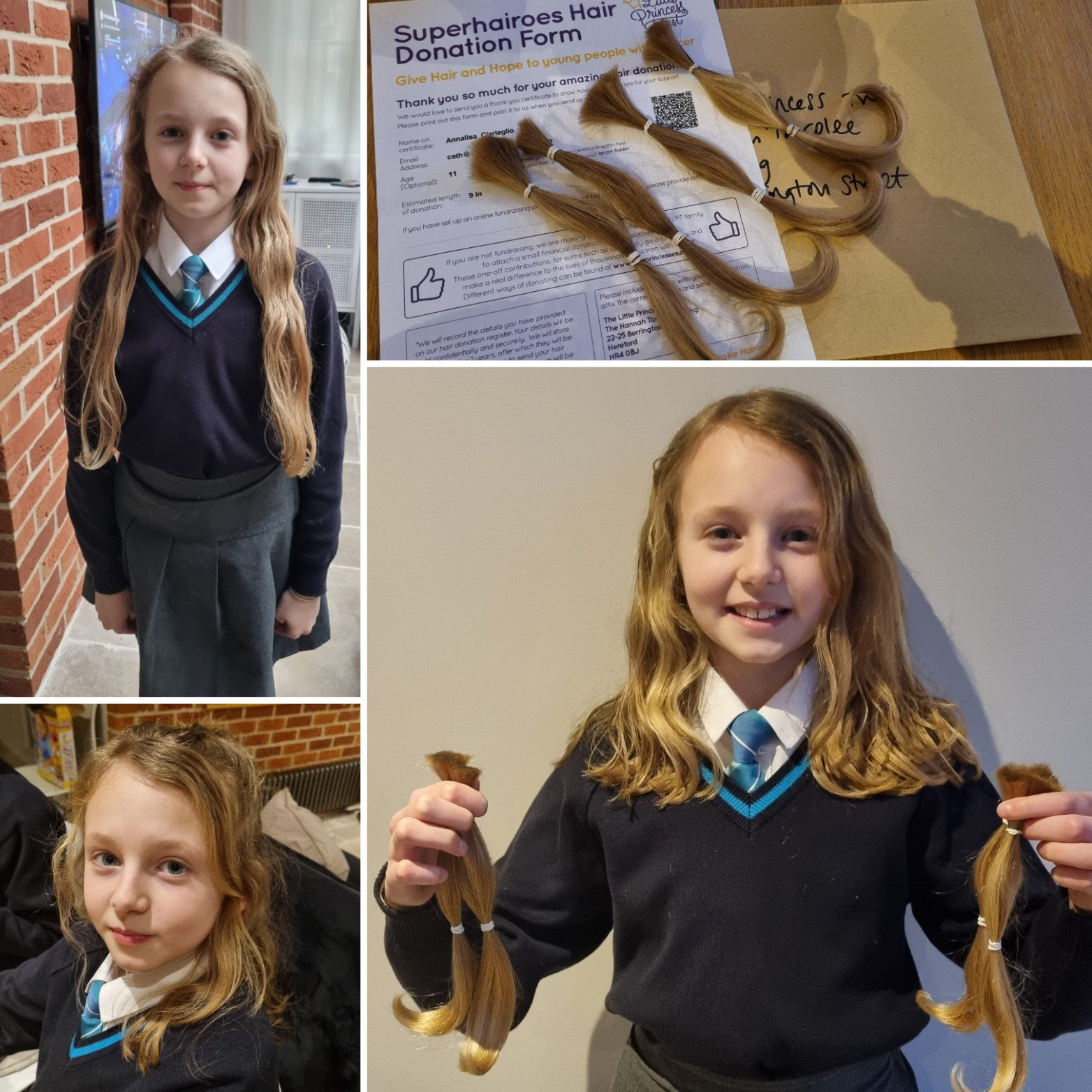 Year 7 pupil, Annalisa has donated 9 inches of her hair to The Little Princess Trust.
The Princess Trust provides free real hair wigs to children and young people, up to 24 years, who have lost their own hair through cancer treatment or other conditions. They also fund childhood cancer research searching to find kinder and more effective treatments. Well done Annalisa, what a wonderful gesture.
North Norfolk District Council's 110,000 Trees End of Project Celebration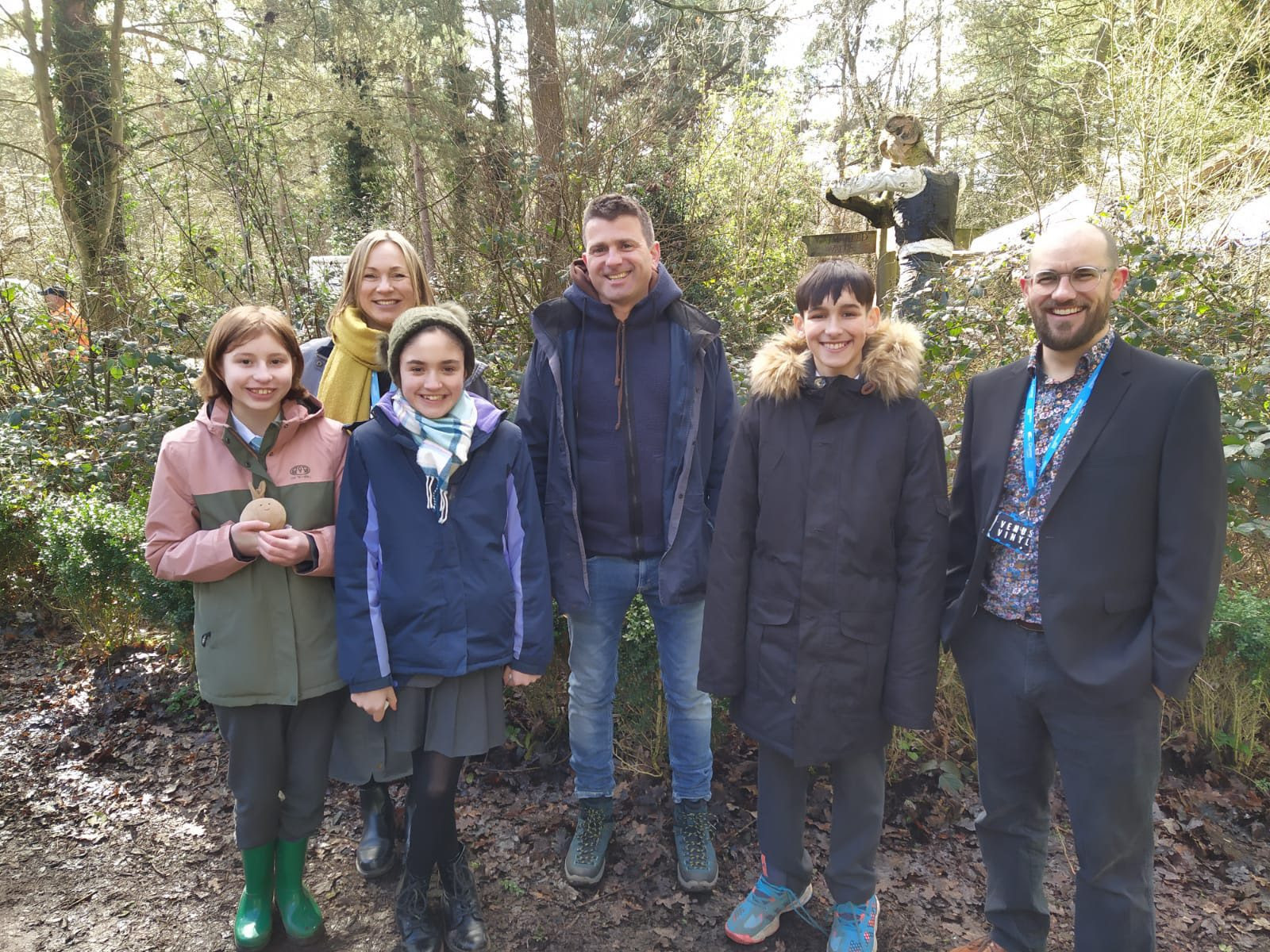 We were delighted to be invited to attend the celebration at Holt Country Park on Tuesday 7 March to celebrate the successful completion of their project to plant 110,000 trees in North Norfolk – one for every resident.
Cromer Academy pupils helped achieve this by assisting with the planting of 1100 trees and bushes on Cromer Academy school grounds as well as supporting the Countryside Rangers team by planting oak trees at Holt Country Park.
Our eco committee pupils had the opportunity to join a Walk and Talk led by special guest, Nick Acheson and the NNDC Countryside Ranger team, followed by the planting of the 110,000th tree.
Young Carers Summit
We took 7 pupils to Wymondham High school for the young carers summit in which speakers from across Norfolk talked about the work being done to promote young carers' education of staff and pupils to stop the gap in progress made just by pupils who give up their time to care.
---
We share in celebrating Ian Thornton's OBE for services to communities in East Anglia. Awarded by King Charles III himself! Macey and Jimmy brought dad's famous medal into school and we were in awe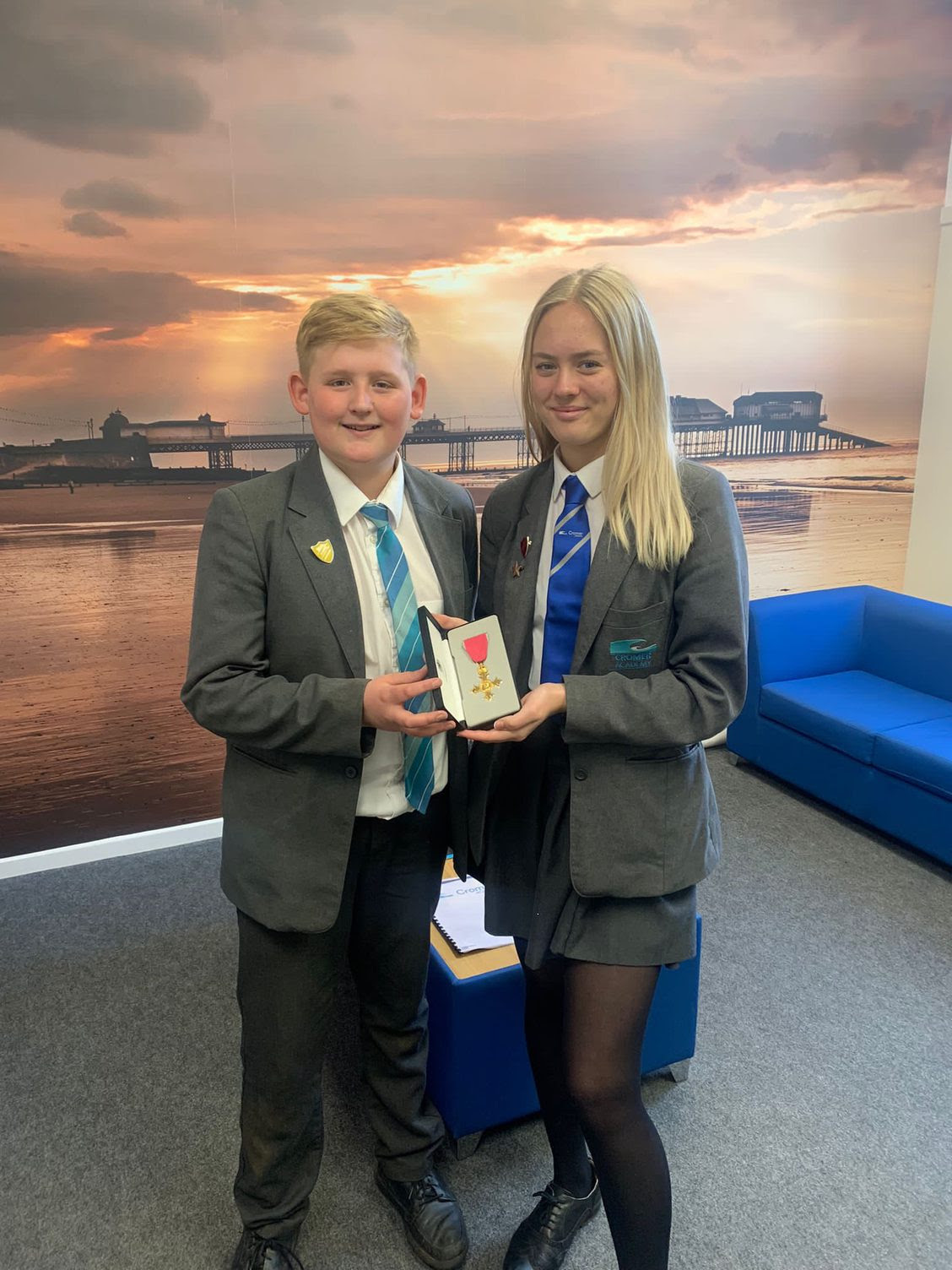 Battle of the Band Winners!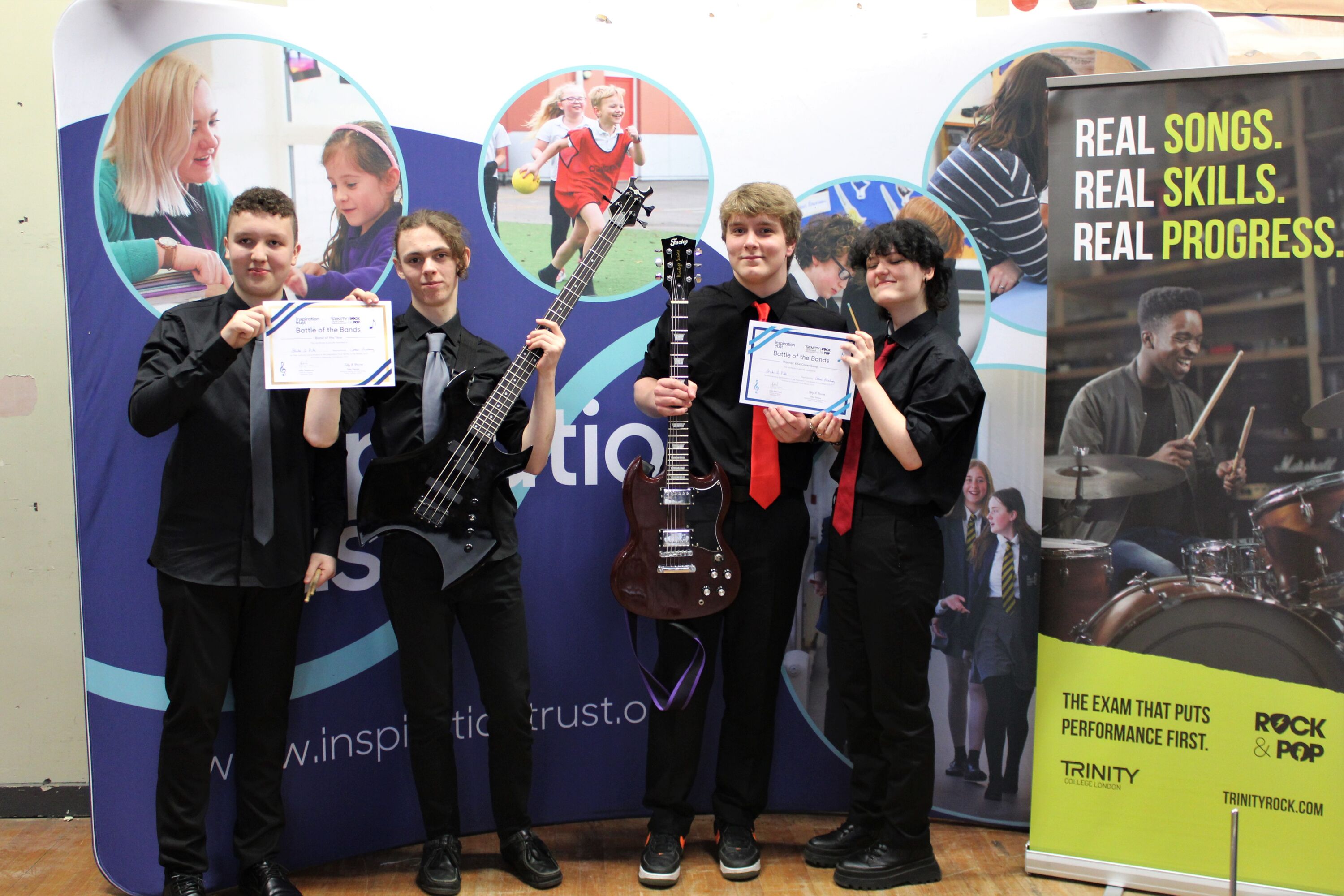 Last month, Inspiration Trust held its first annual Battle of the Bands Competition where rock and pop bands from all of the schools in the Trust could compete against each other to win their Key Stage category or even win the title of Band of the Year.
Miss Renton was proud to be able to take 3 bands from Cromer Academy; Fearless (Y8 band), 9 to 5 (Y9 band) and Sticks and Picks (Y11 band). The standard of playing from all bands that entered was extremely high and our bands' performances were fantastic. I am very pleased to say that Sticks and Picks not only won Best Key Stage 4 Band but were also awarded the title of Inspiration Trust Band of the Year! Well done all!
Piano Competition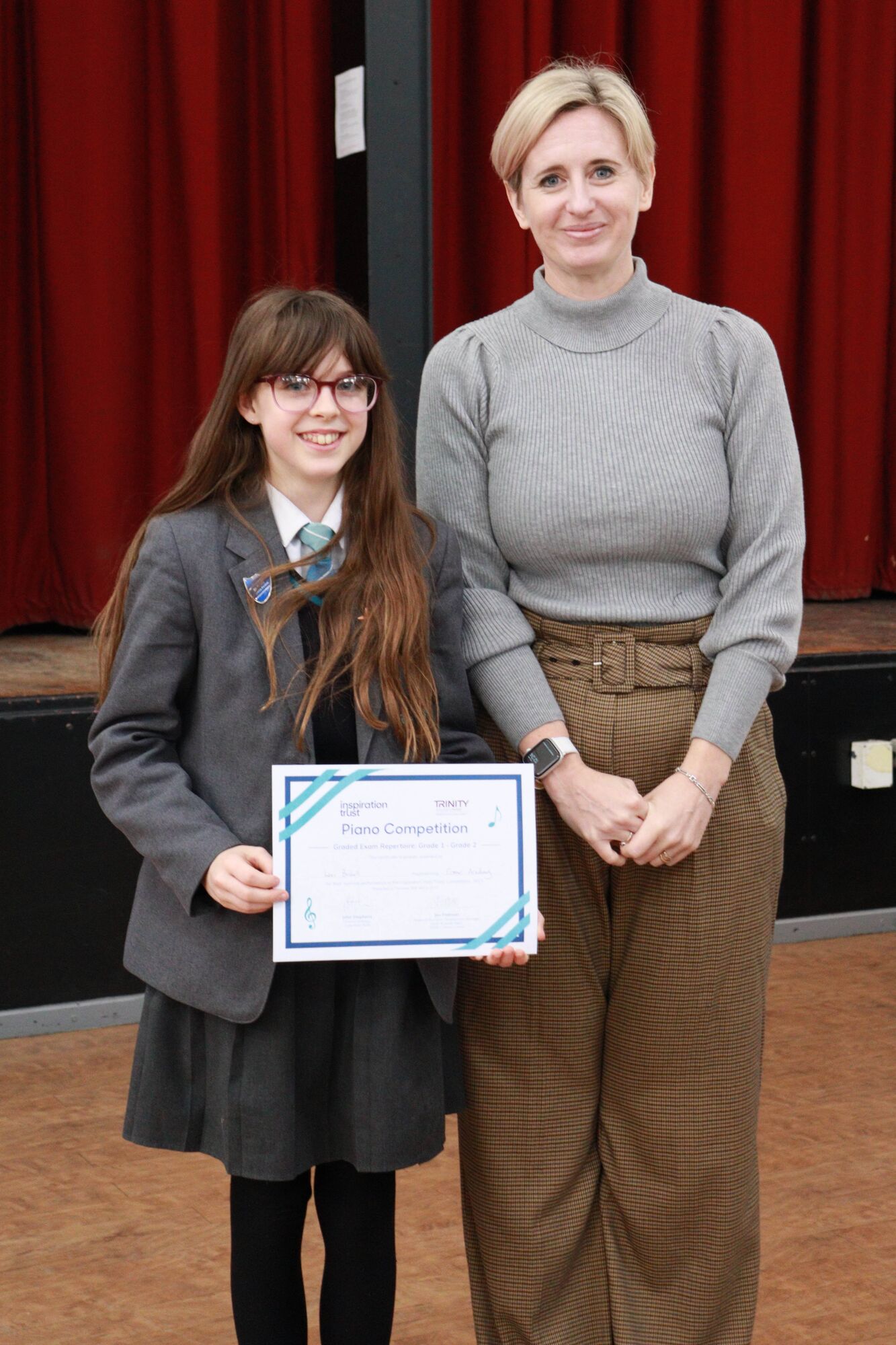 The Inspiration Trust held it's first annual Piano Competition this week with pupils competing from across all the Trust schools. 4 pupils from Cromer Academy were entered into different categories with Lexi B, Year 7, winning the Grade 1 -2 class. All pupils played brilliantly and for most, it was the first time they have performed in public. Well done to all!
The Great British Spring Clean 2023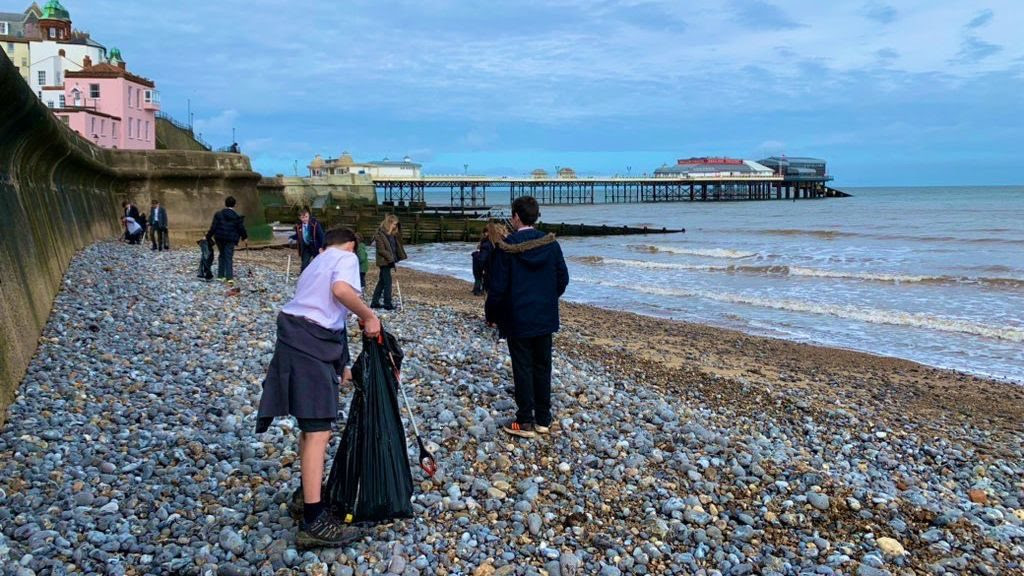 The Great British Spring Clean is the nation's biggest mass-action environmental campaign. This year, it runs from 17 March to 2 April. This year the focus is on the pride our #LitterHeroes have for their local community.
Our Eco enrichment group supported the event by completing a beach clean on Wednesday 22nd March, collecting 5 bags of litter from Cromer beach.
Spelling Bee
The second year of the Spelling Bee proved popular and exciting with the whole school buzzing.
The different stages were tense, competitive and not without a few laughs on the way. The Spelling Bee was held in the Drama studio where friends and staff were invited to watch.
Day One: Form groups competed across the whole school.
Day Two: Five first-round winners from Year 7 competed followed by the winners from Year 8.
Day Three: Five first-round winners from Year 9 competed followed by the winners from Year 10.
Day Four: Five first-round winners from Year 11 competed.
House final – This was the 4 top spellers in any Year group but representing their house.
Results:
100 house points awarded to:
Year 7 Diorland Rippingale – Shipp
Year 8 Ekaterina Savatova – Shipp
Year 9 Sienna Dickens – Blogg
Year 10 Amber England-Bishop – Sadler
Year 11 Evelyn Lewis – Blogg
200 points were awarded to SHIPP – well done Codie Palmer in Year 9, our 2023 House Top Speller!
All runners-up received 50 house points.
Mental Health Support For Young People
We would like to promote and inform parents/carers about an online resource pupils can access to help support their mental health.
Kooth is a "free digital mental health and wellbeing platform young people aged 11-25 can access.
It is a safe and non-judgmental place for people to connect with others and know they are not alone. They have instant access to self-help materials, live moderated discussion forums and tools such as online journals and goal trackers. Young people can also contribute written pieces of work reflecting their own experiences, as well as accessing drop-in or booked sessions with professional counsellors from 12 pm-10 pm weekdays and 6 pm-10 pm weekends"

Kooth is running a webinar for parents/carers to explain who they are and what support pupils can access. Please book a place via the link below.
Thursday 18th May: 6-7 pm - Parent/Carer webinar
https://www.eventbrite.co.uk/e/kooth-information-session-for-parents-carers-tickets-532037336997
Mental Health Support for Parents/Carers
Qwell is a service now available for parents/carers to access "free, safe and anonymous mental wellbeing support".
Please access the service from this link.
Qwell offers a range of services from drop-in chat sessions with professional support, community support, online messaging and personal development tools.
Help & Support for Parents/Carers - Cost of living crisis
We appreciate the current cost of living crisis is causing worries and challenges for many families. There is financial help and support available from a range of services, please see the information below to find out more.
Do not hesitate to contact the school if you need help accessing support.
Norfolk County Council - help with living costs page
PE Updates
Netball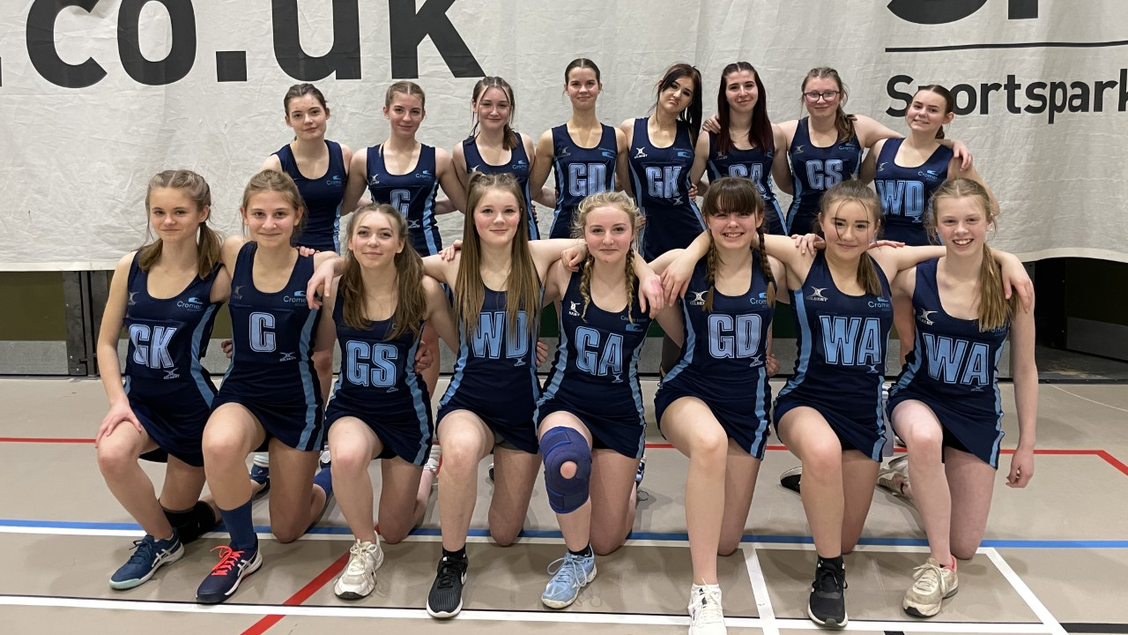 Congratulations to the year 9 and 10 netball squads who competed in the Inspiration Trust netball tournament on Thursday 23 April at the UEA. Competing against eight schools, they won seven matches. Both teams gained silver medals for their age group and Cromer Academy are currently sitting in joint overall position. The year 7 and 8 netball Inspiration Trust tournament has been re-arranged for Wednesday 25 April at Hethersett Academy.
Cromer Academy entered netball squads for the U12 and U13 Norfolk Schools Netball championships held at Greshams School. The squads competed with determination and passion. The U12 team made it to the semi-final of the plate and the U13 team made it to the quarter-final of the cup match. Both were pipped to the eventual winners of the round.
Norfolk Cross Country Championships
We took a small contingent of pupils to the Norfolk Cross Country Championships. All pupils ran with grit and 6 of them placed in the top 30. From this event, Year 11 pupil Esme was selected to represent Norfolk, running in both the Regional and English Schools championships.
Sports Leaders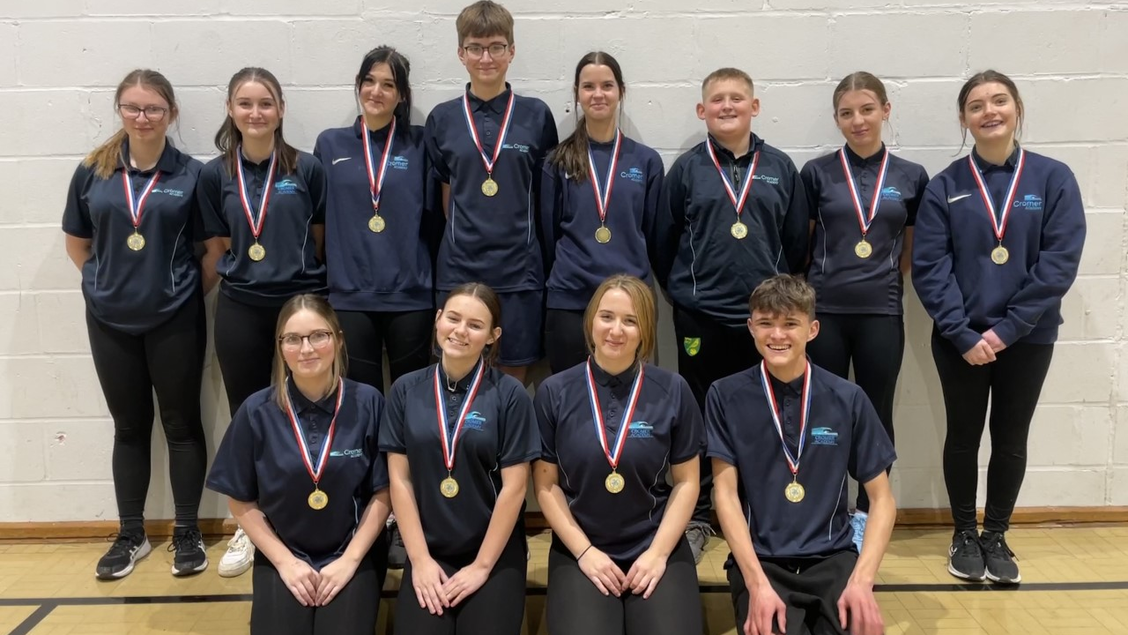 Twelve selected year 10 sports leaders have assisted Mr Upton in running Primary School sports events as part of the North Norfolk Schools Partnership since September. The events have included golf, dodgeball, athletics and basketball. They have done an incredible job and have been a credit to Cromer Academy.
Norfolk Cricket Leaders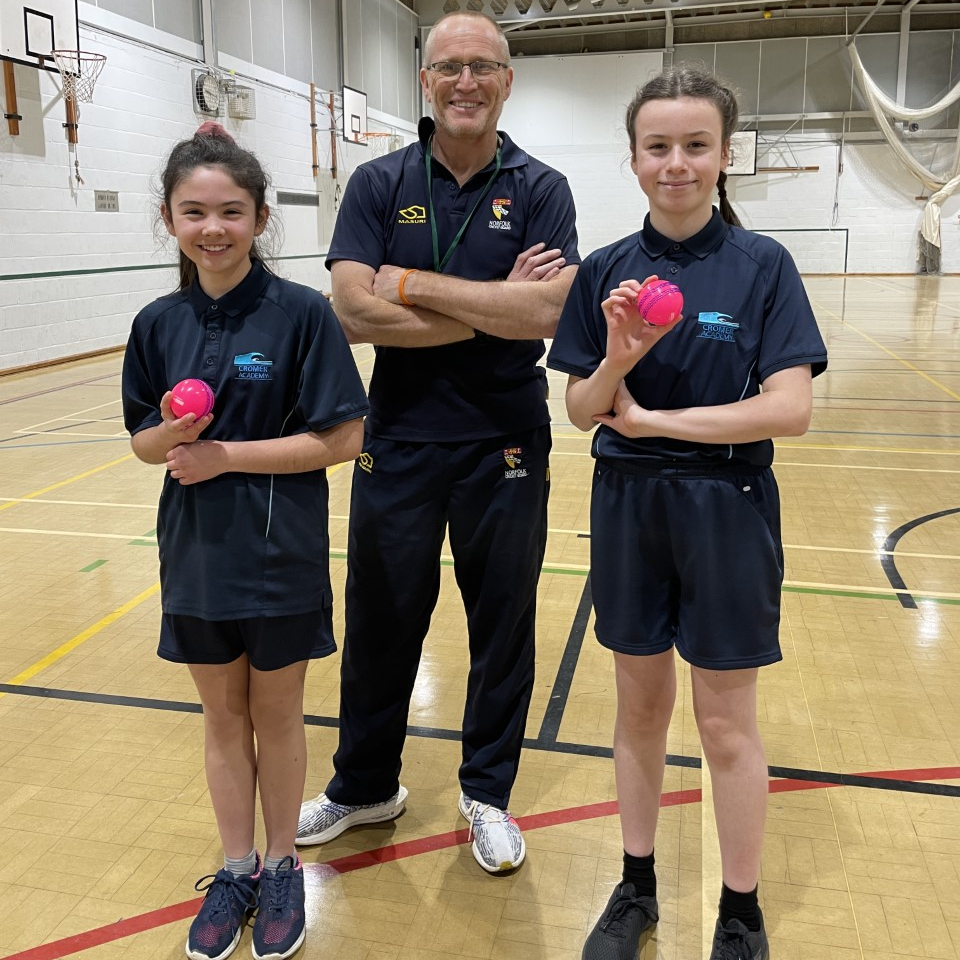 We have been delighted to welcome Andy Babcock to deliver sessions to year 7-9 girls for cricket. Andy works for the Norfolk Cricket board and has been leading weekly after-school cricket sessions. Pupils were also invited to complete a leaders award and selected pupils will be assisting in the running of cricket sessions at Cromer Juniors after Easter.