A Blast from the Past: Cromer Academy performs Back to the 80s
Back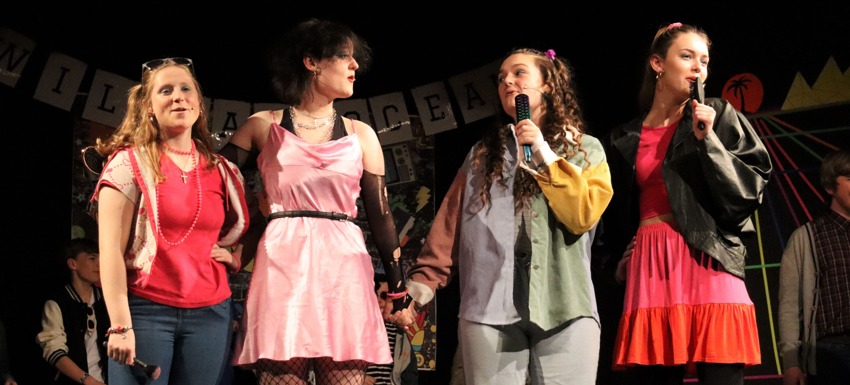 March 22nd 2023
Across Inspiration Trust, we are keen to give our students as many opportunities to perform as possible, with our yearly school performances a key date in the calendar. Here at Cromer Academy, there is no exception, with all our pupils working extremely hard over the previous weeks and months, preparing for the epic rendition of the Neil Gooding musical - Back to the 80s! The show, which ran for three nights from Tuesday 21st - Thursday 23rd March has been a huge hit amongst students, parents and the local community. We are already looking forward to putting on next year's show!
And, it's not just the taking part in the show the pupils get to enjoy, our students are given the full professional experience, undergoing an audition process and numerous rehearsals all leading up to the final performances. Those that didn't want to be involved in the show as actors, were able to get involved by helping out backstage, assisting with costumes, props and building sets with the support of our local school community.
Nicola Renton, Head of Performing Arts at Cromer Academy said:


"Our performers have shown professionalism and have worked at the highest level in this musical.

The school show has been a wonderful project for our pupils, with the opportunity to perform with professional sound and lighting to create a stunning production.

I would like to thank all involved in realising our vision for the show and being able to give our pupils this amazing experience."
The story, which is set in the present day, follows Corey Palmer as he takes us back to William Ocean High School. There he recounts his senior year, the friends that he had and the girl he had a crush on. Corey's classmates are introduced as Alf Bueller, Kirk Keaton, Tiffany Houston and Cyndi Gibson to name a few, alongside the most popular boy in school, Micheal Feldman.
Throughout the show, the audience was thrilled by the references to the 80s with dream sequences influenced by Star Wars, a concert inspired by Live Aid and a premonition of the cassette downfall in favour of CDs.
The show transported the audience "Back to the 80s" and fully immersed them in the fictional William Ocean High School, with impressive lighting, costume and sound effects. The cast performed many musical numbers with a catalogue of 80s hits such as "Footloose", "Girls Just Want to Have Fun" and "Never Gonna Give You Up". Dancing, singing and acting from the impressive cast made for a wonderful performance and a thoroughly enjoyable show.
Darren Hollingsworth, Principal at Cromer Academy said:

"Our pupils have made the Cromer Academy community proud with their performances this week. Seeing the collaboration between staff and pupils in the rehearsals has truly paid off with seamless coordination between our talented live orchestra and actors. Our live orchestra has really made a difference to the show and further showcases the talent we have at Cromer Academy. Alongside our actors presenting their talent in singing, dancing and acting it has been wonderful to see. It is fantastic that we are able to give our pupils the opportunities to pursue their passions and have our sights firmly set on our production for next year."
Inspiration Trust understands the value of the arts, and every student across all its schools has the opportunity to take part in a variety of performances, including theatre productions, musical performances and concerts. Recent productions include 'We Will Rock You' by Great Yarmouth Charter Academy and 'Annie' by Jane Austen College, Hewett Academy and Sir Isaac Newton Sixth Form.