Cromer Academy Celebrates Monumental GCSE Results
Back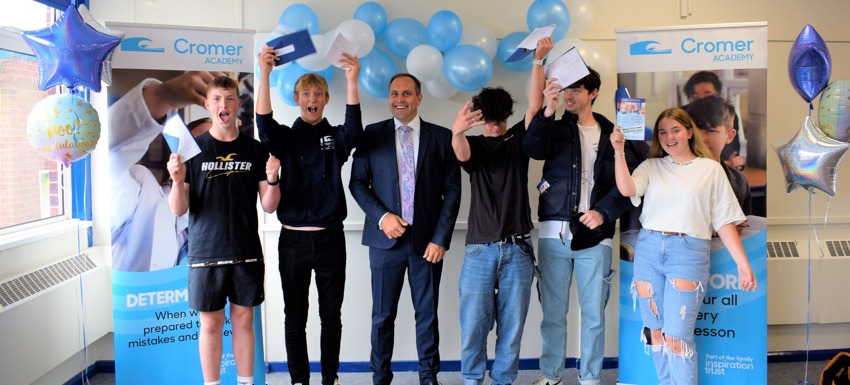 August 25th 2022
The pupils of a secondary school in the coastal North Norfolk town of Cromer have been celebrating their knock-out GCSE results today with 80% of grades at 9-4 across Maths and English.

The school has seen a significant improvement in results vs. 2019 in all areas, with standout subjects being art, history and languages, with success also seen across sport and music too. With the challenges that have surrounded teaching and learning due to the pandemic and the return to exams following their hiatus, the staff are extremely proud of what their pupils have achieved.

Darren Hollingsworth, Principal at Cromer Academy said,

"I am beyond proud of our Cromer pupils and their efforts. It really does go to show that hard work pays dividends. I'd like to thank each member of staff who played their part in helping our pupils to the next stage of life. We are a team and as a team, we wish every pupil the very best in their journey."

16 students are going on to continue their studies within Inspiration Trust schools moving on to Sir Isaac Newton Sixth Form College or Jane Austen Sixth Form College, both based in Norwich. Pupils at Cromer Academy that are passionate about STEM subjects such as Maths and the Sciences are excited for their step up to A-Level.

Jay Bartlet-Massingham, Year 11 pupil at Cromer Academy said,

"I'm very excited to meet new friends at Sir Isaac Newton Sixth Form, and continue my learning in renewable energy doing Maths, Physics and Environmental Science."