Cromer Academy Year 11 Art students get involved with Creative Career Day
Back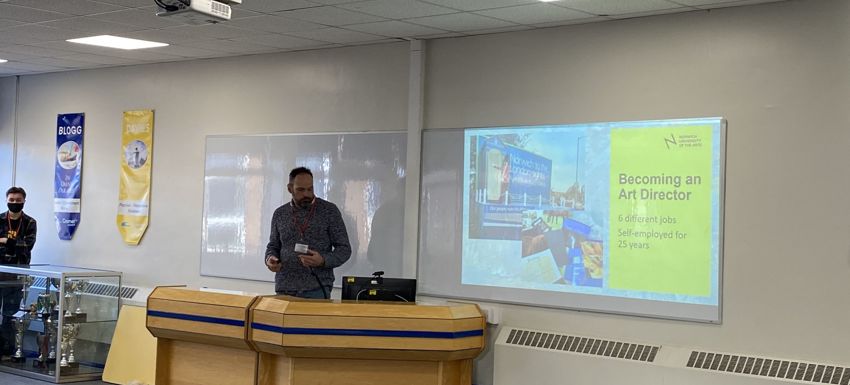 January 27th 2022
Year 11 students at Cromer Academy recently took part in a day filled with creative workshops and talks about the benefits of continuing their education within the creative sector via different post high school routes, including university and high level apprenticeships. The day was planned by Cromer Academy's art teachers, Anna and Georgie, to inspire and educate Art and Photography students about creative careers, pathways and courses at further education and to develop Art and Photography skills through workshops led by expert local artists and lecturers from Norwich University of Arts.
The day started with a talk from Gavin Spoors, NUA's Higher Education Champion for the 'Take Your Place' programme, in Holyland Hall about the various creative courses on offer at Norwich University of the Arts and the skills required for each course. Gavin helped students to overcome common misconceptions about going to university, like myths around student finance and university life in general, this was well received by students. This was followed by presentations from two NUA student ambassadors who spoke to students about games design and fine art courses. Both ambassadors gave information on their skills, interests and intentions which helped the year 11s to envision their own pathways. The talk finished with a quiz where students had to guess the salaries of various creative careers - this opened their eyes and allowed them to see that the creative arts is a valuable, well earning career and doesn't have to just be a fun hobby on the side, like many students may have assumed.
After the talk the art and photography students separated into their separate groups to partake in different workshops. A character design workshop for the art students was held for the first hour, followed by a talk on how to prepare portfolios for interviews at college and university. A photography workshop for the photography students, focussing on different techniques of photographing hands, was also held to compliment the work that students have already done, and build upon their knowledge. The outcomes from this workshop were really strong, with students being able to add their finished pieces to their GCSE photography portfolios.
Former Cromer Academy student, Abi Harold, ended the day by leading a storyboarding workshop for art students. She showed the class her work and the various briefs she had to work on to complete her BA Illustration course. This inspired the class to tell their own narrative about their life, what makes them happy, what life journeys they have been on.
The day was an incredible success, with all of the students finding it extremely inspiring and informing, giving them lots of ideas about their future pathways.
Art teacher and organiser of the day, Anna Watmough, said:

We identified that this cohort of year 11 students were really struggling to see what their futures could look like beyond GCSE, potentially impacted by COVID-19 and the numerous lockdowns over the past couple of years. Many students were unsure of which courses to take at A level/ apprenticeships and there wasn't much buzz around the idea of going to university, so we therefore planned this event to help them with future planning.

It was a great success, and we plan to run the event again next year, for our next cohort of Year 11 students.