Cromer Academy launches it's journey to become an Eco School
Back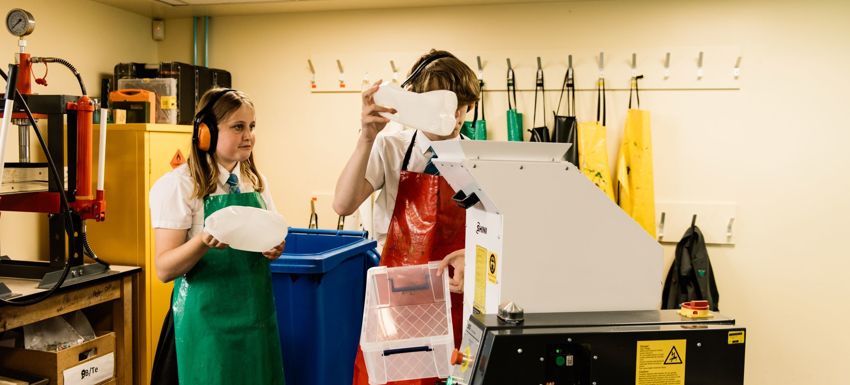 June 24th 2021
Cromer Academy has made the decision to actively protect the local and global environment by successfully launching the beginning of their journey to becoming an international Green Flag Award Eco-school.
As part of this initiative, students will be encouraged to get involved with planning and completing environmental actions. From beach cleans, planting trees and making full use of their new plastic granulator investment, funded through Sheringham Shoal Community Fund and the North Norfolk Big Society Fund, Cromer Academy will lead the way in becoming a plastic free environment.
Cromer Academy is aiming to focus on the global issues of:
Biodiversity - caring for all plants, animals, and insects.

Marine - protecting rivers, canals, lakes, oceans and the plants and animals that inhabit them.

Waste - refusing, reducing, reusing, repairing, and recycling.
Darren Hollingsworth, Cromer Academy Principal said: "After achieving the bronze award we move on to silver and gold to achieve our Green Flag status. Our school can continue in the programme to gain multiple Green Flags. One of the most exciting things about the programme is that the process is designed to engage the whole school and its wider community."

"Young people are at the very centre of the Eco-schools programme. The future of the environment matters to them and we are encouraging them to play an active part in making it the world they want."
As part of their Eco School launch, students were encouraged to think about their environmental footprint and single use plastic consumption. They were given the opportunity to trial their new plastic granulator and sheetpress where they showcased granulating old milk cartons and melting the remains in order to form new usable products as part of their new innovative recycling scheme.
The work to reduce plastic waste strongly supports Cromer Town Council's pledge to be a plastic free town. The school has also become part of Community Allies and joined the Plastic Free Community network for Cromer to help combat single-use plastic and plastic pollution. As part of the pledge, new recycling bins will be installed outside of Cromer Academy where the local community can recycle their plastic to be used in one of the area's only plastic granulators.
Isabel England, year seven student, said "It's really important that we do our bit to help the planet because not everyone is doing that. If our community can inspire more people to do this we will be able to make a huge difference and really help in the future. We are the next generation therefore we are the ones who need to make a difference."
Andrew Clark, year seven student, also added "I am proud to be a part of Cromer Academy. By making the decision to become an eco school, we hope to make this the new normal".
The school is working with North Norfolk District Councils' environmental team to enable students to plant over 1,410 hedging plants and trees on the school site later this year as part of their biodiversity plan. Alongside recycling all food waste, cutlery and not stocking single use plastics, Cromer Academy are leading the way in their eco efforts and hope to serve as inspiration for other communities to do the same.