Cromer Academy students win public speaking competition
Back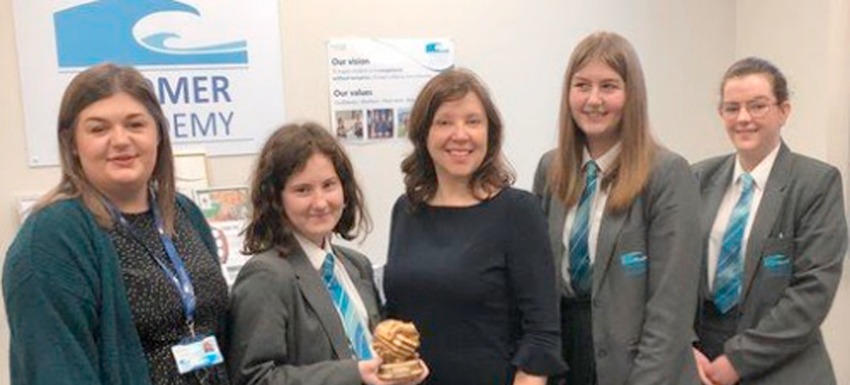 March 6th 2020
A team of Cromer Academy students have won a public speaking competition for a speech about mental illness. Dame Rachel de Souza, Inspiration Trust CEO, presented the winning team with a trophy to celebrate their success.
Teams of our students competed in a public speaking competition at Aylsham High School. They competed against Stalham and Aylsham students and we're pleased to say they won. Paris and Nancy took first place with their powerful speech titled How does the UK treat those with mental illness?
"The girls were amazing! Their speech consisted of facts alongside strong opinions. It is a difficult topic to discuss but they did so with complete decorum and respect."

Miss Gibson, one of our teachers who attended
Second and third places went to two teams from Aylsham High. We would like to congratulate everyone who took part. Cromer Academy had two other teams take part who delivered insightful speeches. Tyler and Rhiley gave a thought-provoking insight into their opinion on today's school system.
"They delivered a passionate, well-informed speech, which left a lasting impression on myself and the other members of staff attending."

Miss Gibson
Thomas, Charlie and Jacob presented their opinions on political correctness. Miss Gibson added: "As well as being informed and opinionated, the team was respectful and considerate of others' opinions, whilst still delivering a secure argument. As I've worked with these students in their debate enrichment, it was a real honour to watch them speak so fluently and with such confidence.
"They presented the school superbly and I was really proud of all three teams."