Cromer Academy - Open Evening
Back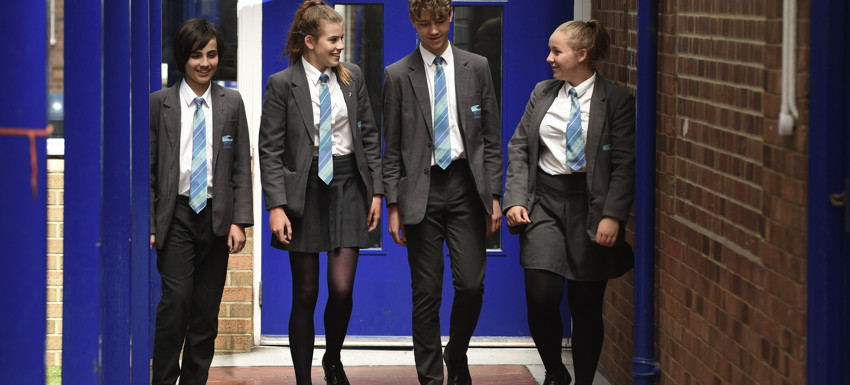 September 25th 2020
We look forward to welcoming future students on Open Evenings each year. This year due to Covid-19, we are operating a booking system where families can book an appointment for a tour of the school on the dates below.
Each household will need to book ONE appointment.
Please contact the school office to book a tour on 01263 511433 or you can email via our dedicated open evening email address openevening@inspirationtrust.org.
We also need to ask that adult visitors wear a mask. A video of the school will be available to view on the website from 12th October.
Tours available with a member of the Senior Leadership Team.
Monday - Thursday 4pm-5pm from 1st October to 22nd October.
Question

Response

1

What time does the school day follow?

The first lesson begins at 8:30am and the school day ends at 3:30pm. pupils are expected to be on site by 8:20am at the very latest.

2

What is the average class size?

The average class size for the current Year 7 is 30 pupils.

3

What extracurricular activities are on offer at the academy?

Our enrichment sessions give pupils a chance to choose more of what they like including extra sport, art, drama or music. Recent activities have also included coding, baking, cheerleading, book club, nature rambles, crochet,eco-club, gardening,chess club, film club and art club. We even have a group who volunteer in local primary schools to help younger children to learn.

We have a diverse range of sports teams such as football, rugby, netball, hockey, athletics, cross-country and cricket. These teams play competitive matches against other local schools in the area.

4

Do you set pupils by ability?

We firmly believe that each of our pupils should be taught in an environment in which they have the most opportunity to learn.

In Year 7, pupils will be placed into form groups that are broadly set according to overall academic ability. In addition, pupils are placed into separate groups for Maths and English based on our own assessment of their ability. In Year 8, pupils are placed into sets for their Maths, English & Science lessons.

5

How does the school support pupils with special educational needs?

Our SEN pupils are supported by a specialised team. Furthermore, every classroom teacher has access to information regarding how to best support those pupils. It is expected that every one of our teachers is familiar with the needs of the pupils under their care.

6

Does the school offer the Duke of Edinburgh award scheme?

We run the bronze & silver Duke of Edinburgh award scheme. The scheme is organised by a staff member who is a registered and qualified Duke of Edinburgh leader and assessor.

7

How is pastoral care monitored and reported back to parents?

The first point of contact with regard to pastoral care is a pupil's Form Tutor. They will closely monitor and report back to parents any concerns they might have. This may be done through a phone call or email.

More serious concerns will likewise be dealt with by Mr Fisher, our Head of Year 7. Mr Fisher will regularly meet with those pupils with whom he feels require extra support.

8

How varied/flexible is the choice of subjects at GCSE. How many and which subjects are compulsory at GCSE?

During Years 10 and 11 it is compulsory that pupils study the following subjects to attain a GCSE qualification: Mathematics, English Language, English Literature, Science, French or Spanish, Geography and/or History.

Pupils will then study a further three subjects of their choice, which may include: a further Humanities subject (including Philosophy), Triple Science, Statistics, Art, Photography, Design Technology, Computer Science, Physical Education.

9

How can parents get involved with school life?

Our 'Friends of Cromer Academy' parent group meet each half term. Their aim is to support the school by arranging events such as quiz nights, bingo & shopping events to help raise funds for the school as well as bringing parents and staff together.

Once a term, we hold a Parent Advisory Board Meeting where parents can meet with the Principal to offer support and advice to help make informed decisions to further improve the school.

10

How does the school communicate with parents?

We use a system called Parentmail to communicate with parents. Parents can download the Parentmail app which enables you to receive messages directly to the app. This system also enables parents to make payments for lunches, trips etc remotely at the touch of a button.

Newsletters are emailed home to parents every 3 weeks with updates and articles of events that have taken place in school. Parents can access information about the school via our website.

11

Does the school run trips?

Over the years, we've encouraged pupils to travel through school trips to France, Germany, Italy and Spain, as well as visiting locations within the UK. Each July, we host Activities Week where our pupils can choose from a variety of in school activities or off site trips and residentials. These have included climbing Snowdon, Ben Nevis & Scafell Pike, cultural Art trips to Edinburgh & Liverpool as well as sailing on the Norfolk Broads.

Our aim is to offer our pupils the opportunity to visit a unique destination during the time at Cromer Academy. Our planned trip to Zanzibar had to be postponed due to the current pandemic. We will be re-establishing school trips as soon as it is safe to do so.

12

When was your last Ofsted Inspection and what grading did you receive?

Cromer Academy was rated good by Ofsted, January 2017

Outstanding leadership

Outstanding personal development, behaviour and welfare

Good teaching and learning

Good pupil outcomes
How to find us